1. Can you tell us a little about your business and what makes you unique in that space?
Cutting Edge CNC started summer of 2010 with a ShopBot CNC router in my personal shop. We make structural parts, designer-type parts, spacing saving parts and many custom parts for the Recreational Vehicle (RV) industry. Our service is what makes us unique. Not only do we provide exceptional service, we also offer a full-service solution. Others in this space often build parts to specs, but our team takes a different approach. We take the time to understand and discover what our customers truly want and need. We do as little as just cut it to as much as a start from scratch, design and build a finished solution.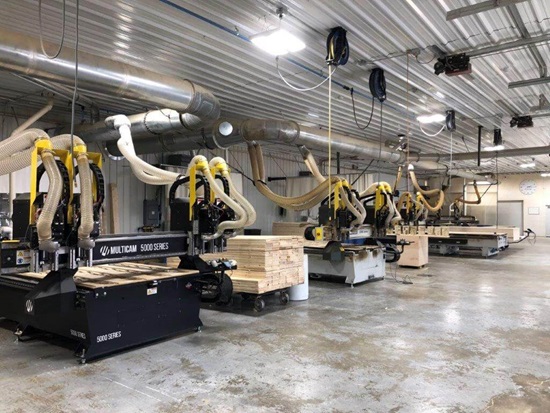 2. How is your business doing and did you have to pivot your business model during the pandemic? If so, what did you do?
The RV industry responded positively during the pandemic. 2020 was a historical year; less than a
year after sales were in free fall, now the trend has completely reversed. There are many brand new RV-ers, a huge influx of people flocking to the RV lifestyle due to the pandemic induced travel restrictions. We had to pivot our business model as well, we were manufacturing store fixture items in the retail space, but that market tanked and stopped production overnight. We shifted production from doing 65-75% RV jobs to over 90% RV jobs.
3. The pandemic has caused many business disruptions, what made you decide to invest in additional capital equipment?
Return on Investment and the demand for RVs skyrocketed. The RV market is the strongest it has been in decades, sales have soared, and the demand is not going away anytime soon.
4. What type of MultiCam machine(s) do you currently own and how long have you been working with it?
This is our fourth MultiCam. We purchased our first MultiCam back in 2013, we have two, dual spindle routers and two, quad spindle routers.
5.We love repeat customers, what made you choose MultiCam again? What made our machine stand out from other options?
We cannot speak highly enough of the exceptional service that MultiCam Great Lakes provides! Once upon a time, we owned three other CNC brands, one we purchased new and we quickly realized what we did not want which was the lack of service. It is not if we need service, it is a matter of when we need service. We decided we wanted to do business with a company that has exceptional service locally, and MultiCam came highly recommended in the area.
6. What have you been able to achieve since adding another 4-spindle heavy-duty router to your lineup?
We were running a little overtime to keep up with jobs, but now we are back to one 8-hour shift on all four machines utilizing all 12 spindles. Our four-head machines make parts less than 15" wide, and the two-head machines make parts larger than 15" wide. We cut a wide array of materials such as hardwood, OSB, particleboard, plastic, MDF, plywood, edge glued panel, and more.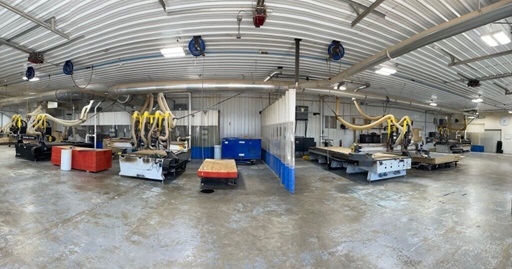 7. What was it like to work with MultiCam?
MultiCam Great Lakes is easy and awesome to work with. I have known Robert and Marty for many years.
8. What would you say to others considering purchasing a MultiCam?
Please consider the service aspect when making a purchasing decision. Downtime is expensive, same-day or next-day service is essential. You want a partner to jump when you jump. We have experienced a 3-day downtime, and any time a machine is not running, we are losing money.
9. What else would you like to share with us? Are there any feedback on how we can improve your experience with MultiCam?
I have a few design ideas but overall, I am happy with my MultiCams. They are all great and solid machines.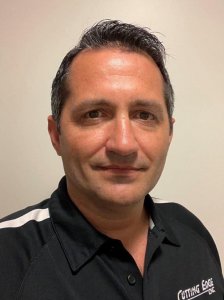 Interview with Danny Miller - Owner of Cutting Edge CNC