Option Signs broadens their manufacturing capabilities at the company's Alpharetta, Georgia manufacturing facility with the addition of a new APEX1R CNC router to meet increasing national demands for custom light manufacturing and engineered products.
Option Signs and Environmental Graphics manufactures bespoke signs, graphics, and non-structural building fixtures for variety of customers including general contractors, developers, architects, and building owners of multifamily, healthcare, industrial, and other commercial properties. The company has been proudly manufacturing and installing across the United States for nearly ten years and, its founders' careers stretch back over 30 years. Recently, Option Signs joined the growing family of Illinois Avenue Partners, a conglomerate of smaller, discrete manufacturers banding together for scale and sharing of opportunities.
Interview with Tucker Twitmyer - President of Option Signs and Oakhurst Signs
1. The pandemic has caused many business disruptions, what made you decide to invest in additional capital equipment?
Our decision to continue investing and to upgrade our router table fleet was driven by the numbers. Thanks to a nice trend of growing demand, we needed increased CNC throughput. Thanks to our CFO, Michael Winton, we had secured favorable bank financing. Most importantly, the efficiency, bed-size, and speed of the Apex1R offered us significantly reduced costs in our increasingly busy cutting and shaping operations.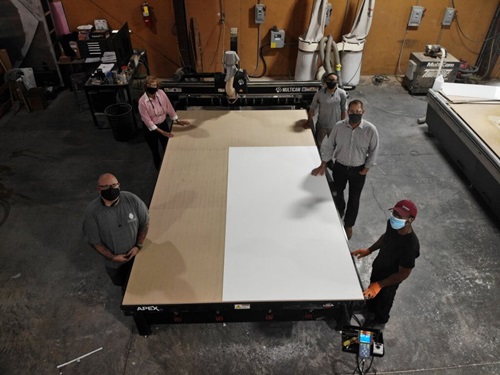 2. How is your business doing and did you have to pivot your business model during the pandemic?
If so, what did you do? Nothing is easy in the Covid environment, and Option Signs faces its fair share of challenges. Some customers pulled back orders in March and April. Light custom manufacturers are nimble organizations, and Option Signs is no different. It has the people, processes, and technology to produce many different kinds of items. Option used its flexible workflows and its new NetSuite ERP system to rapidly add new products and sales lines. By early April, the company had created a full line of Workplace PPE, launched an e-commerce store, and started making a name for itself as a leading PPE supplier to offices, election commissions, and school districts.
3. What type of MultiCam machine(s) do you currently own and how long have you been working with it?
The new Apex1R is joining a MultiCam 3000 Series Router and replacing another. Both of the 3000s were purchased used. They were manufactured in the early 2000s and have had a great life. When it comes down to it, the new Apex with additional bed space is a massive upgrade in productivity.
4. We love repeat customers, what made you choose MultiCam again?
What made our machine stand out from other options? Buying from MultiCam was the result of a 90-day selection process led by Michael McKenney our Operations Superintendent supported by others in the company. Michael and Option Signs evaluated seven other manufacturers during the due diligence process. Ultimately, the decision was based on four primary considerations. MultiCam's initial purchase price was reasonable, though most others were less expensive. Evidence of full lifecycle costs was difficult to find, but market research indicated MultiCam's equipment was likely the best or one of the best. MultiCam has a ready and available parts and service labor network. Throughput was the fourth factor. The Apex1R machine absolutely chews through the kinds of material that Option Signs runs.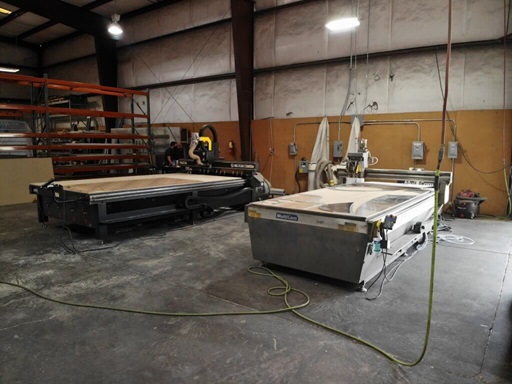 5. What have you been able to achieve since adding a new Apex1R to your lineup?
Option Signs is enjoying decreased worktimes and increased volumes thanks to its new machine. Both of these dynamics drive improved margin.
6. What was it like to work with MultiCam?
Clay Farlow, General Manager of Options Signs reports that, "The MultiCam team, led by Jeff Branch of the Atlanta division, did a great job. They helped us develop a view of the market and the MultiCam equipment. Each of our four decision criteria were vetted with MultiCam's input and assistance. They have been great to work with."
7. What would you say to others considering purchasing a MultiCam?
The hidden costs of aging equipment can break a custom light manufacturing business. Many of those costs are hard to capture. Option Signs is a good example of how one decision, buying a new MultiCam Apex1R, can help drive significant operations improvements and reduce manufacturing costs across a wide range of work centers.